Lisa LaCroix – Acting Resume
Selected Film
Dance Me Outside:  Canadian Feature Film produced by Norman Jewison and directed by Bruce McDonald starring Adam Beach, Michael Greyeyes, Jennifer Podemski and based on the novel of the same name by W.P.Kinsella. Featured as Iliana.
RentaKid:  An American comedy starring Leslie Nielson and Christopher Lloyd, produced by Paragon Pictures.  Featured as Teresa Woolcot.
Psychic:  American Horror Film produced by Trimark Pictures and starring Mary Margaret Stewart and Zach Galligan.  Featured as Susi.
Ed McBain's 87th Precinct: ICE:  American TV movie based on novel by Ed McBain, Featured as Judite.
Divided Loyalties:  A made-for-tv dramatization of the life of Joseph Brant produced by CFTO and Baton Broadcasting and starring August Schellenberg, Tantoo Cardinal etc.  Featured Lead
Selected Television and MOW's
Chicago Hope: Television series about the lives and trial of the staff of a Chicago hospital created by David Kelley aired on CBS, produced by Fox Television.  Guest Starring role of Lily Burroughs
Murdur She Wrote: 12 season American Television mystery series starring Angela Landsbury.  Role of Pearl Sunshine in "South by Southwest".
Fargo-The Series: Pilot for an American Television series, directed by Kathy Bates and starring Edie Falco which later became a TV movie.

E.N.G.: Canadian Television Drama produced by Alliance Communications starri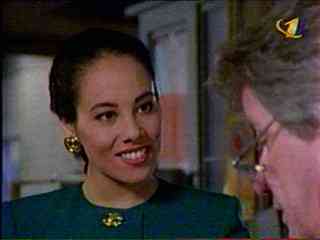 ng Sara Botsford and Victor Garber .  Series Regular role of Kelly Longstreet featured in 16 episodes.
FX- The Series: Canadian Television Drama produced by Miles Dale and CTV and aired on CBS.  Guest starring role in the season 1 episode "Gemini".
PSI Factor:  Recurring Character of Natasha Constantine for 10 episodes, produced by Atlantis Films
Kids In The Hall: TV series based on Canadian sketch comedy group, featured in two episodes, produced by CBC and HBO
Kung Fu- The Legend Continues: American syndicated TV series aired in 70 countries; a spin-off from the original series; starring David Carradine and produced by Warner Brothers.  Lisa is featured in the season one episode "Shaman" as Dancing Moon.
Family Passions: Television series co-produced by Baton Broadcasting (Canada) and ZDF (Germany), starring Gordon Thompson, Kin Shriner etc.  Series Regular role of Anita featured in 18 episodes.
The Rez: Canadian television series produced by Norman Jewison and Bruce McDonald, featured as Iliana in 5 episodes
Liberty Street                                      Recurring (2 episodes)             Epitome Pictures/CBC
Secret Service                                               2 episodes                               Secret Vision Ltd.
Top Cops                                             2 Episodes                               CBS/ Sonny Grosso
Adventures of Shirley Holmes: Guest Star                                Credo Entertainment
Various Stage and Radio Drama and Narration work 
Selected Training 
Circle In The Square (N.Y.),  Corey Allen,  Jacqueline Brooks,   Margie Haber,  Theresa Hayden, Peter Jarvis,  Alan  Langdon,    Janine Manatis,   Marianne McCaissic,   Kevin McCormack,  Theresa Sears,  David Switzer,   Linda Putnam,   Dianna Reis,    Bill Vincent